If you have a house for sale, it can at times seem a bit overwhelming. This is especially the case if you've already purchased another one and you're starting to feel the pressure of two mortgage payments. Each day that goes by without an offer, you may even start to doubt whether your property will ever sell.
The good news is that there are some things that you can do to make your house for sale stand out – regardless of the type of market you're selling in, and even how much competition you may be up against.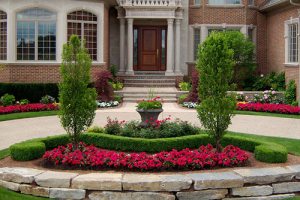 Starting with the exterior, you will want to ensure that your home has curb appeal – that extra pizzazz that makes passersby slow down and take another look. This doesn't have to be anything fancy. It could be as simple as a new front porch light or some nice seasonal flowers in the yard to add color.
The interior will need to be up-to-date. Here, too, you don't have to spend a fortune on renovations. However, ensuring that you have a neutral paint color and updated light fixtures can go a long way with potential purchasers.
Today, many sellers have had success with staging their properties, too. This works regardless of whether or not you have already vacated the home. For instance, if you are still residing in the property, keep in mind that "less is more." In other words, reduce clutter to a minimum.
You should also take down family photos and additional knick-knacks, and thin out closets, book cases, and other areas that may appear to be a bit tight – even if you need to temporarily rent a storage unit to keep your overflow items for the time being. It will be well worth it in the long run.
Working with the right real estate agent can also provide you with additional valuable insight on potential buyer expectations that can help to bring in offers more quickly. Get your house to stand out – in any type of market, give me a call for additional information and recommendations for your specific situation.