Oftentimes, when a seller has their home on the market and it isn't generating any potential buyers, one of the first things that comes to mind is should you lower the price in order to speed up the process. This is especially the case if other homes in the area have been selling.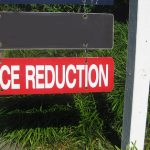 But, before moving too quickly to slash the numbers, there are a few things that sellers can evaluate in order to determine whether it's price that is keeping buyers away – or if the issue is really something else.
First, it is important to get a feel for how long the average home in your area is taking to sell. For example, what may feel like a long time to you may actually be a normal time frame in your particular demographic location for the home sale process.
If this isn't what's holding you back, then there are other criteria that you can also consider once your property has surpassed the average number of days on the market in the area. For instance, does the home show well in terms of "curb appeal" outside, and is it neat, clean, and uncluttered on the inside?
If not, think of the term "less is more" and give the home a good thorough cleaning, along with an "uncluttering." By removing pictures and other items from shelves, along with other knick-knacks, you can actually make the home appear larger – which is much more appealing to a potential purchaser.
Certainly, other factors to consider include whether or not the property has any potentially large expenses that a new buyer would have to incur. These could include old, outdated appliances, systems such as the HVAC and/or water heater, and the siding or roof.
If the home has still "passed" all of the above tests, it is possible that it may not be being marketed properly so that the buyers you are looking for can find out about it. Today, many potential purchasers will want to see photos and descriptions of homes online before even going out to view them. This information can help individuals to narrow down properties that may or may not be right for them.
By working with a realtor who is well versed in both marketing your home and helping you to prepare your home for sale, information about your property will reach the right buyers quickly and easily – helping to get your home sold so that you can move on to the next adventure in your life.
If you're preparing to sell your home in the Orlando or surrounding area, give me a call. I have over 20 years of experience in helping homeowners get their homes marketed and sold right.