Throughout the years, there have been many debates over whether it is better to fix up or enhance a property, making updates where necessary so that it shows better and potentially entices higher purchase offers, or to sell a home "as is," saving the seller's money and ultimately allowing a potential buyer to obtain a lower purchase price.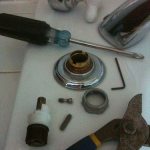 When selling your home "as is", it will typically mean just as it says – that the seller isn't planning to do any (or very much) fix-up work, or even to repair any damages that may exist on the property.
There are some instances where this may be a seller's best option. In this case, however, there are some important items to keep in mind that can avoid having the property – and some possible legal issues – coming back to haunt you in the future.
First, it is essential to note that selling a property "as is" does not mean that full disclosure isn't still required. With this in mind, if there are some major defects on the home such as a faulty water heater or HVAC system, even if you don't plan to repair or replace it, this information must still be disclosed. Otherwise, you could be in trouble down the road – and you may even have to end up paying for the repair or replacement of any undisclosed defects.
If you are planning to sell your home as is, it is a good idea to sit down and really weigh out the pros and cons of doing so. In some cases, it may actually end up saving you more money in the long run if you fix certain problems prior to putting your property on the market. Depending on the issue, the amount that you spend on the repair could essentially be less than the discount that you end up giving to a buyer.
For more information, or to help you evaluate whether your should sell your home "as is," give me a call. I can help you to weigh out the various costs and advantages of all your potential options.