When purchasing a home in the sunshine state of Florida, there's a good chance that there will be a swimming pool in the yard. This can be appealing for many – especially if it's an amenity that you're accustomed to.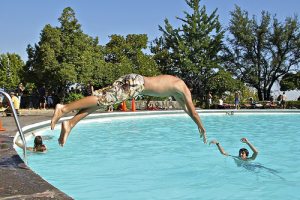 But if pool ownership isn't something that you're already familiar with, then there are several important tips that you need to be aware of before you dive in so that you'll know what to expect.
First, you will need to ensure that the pool is in top working condition. So, prior to moving forward with the closing on your new home, you will want to have it inspected – and if there are any issues, be sure that those are corrected by the seller prior to moving forward.
Once moved into the home, know that owning and maintaining a pool will take some additional time and money – especially if the pool is older. And, due to Florida's year-round warm weather, this will likely be a daily routine.
Typically, you will want to be sure that the pump is running properly, as well as that the water is kept free of leaves and other types of debris that may fall in on a regular basis. There are also security issues. For example, you'll want to be sure that you have ample protection around the pool so that small children and animals cannot accidentally slip into the water.
On the positive side, there are also a number of nice advantages to purchasing a home that already includes a pool. This starts with the fact that it is oftentimes much less costly to buy a home with an existing pool than it is to build a pool from scratch.
Your own pool can also allow you the privacy and convenience of swimming whenever you want to, without having to pack up the car with your raft and beach ball and abide by the hours of a public facility.
If you're considering buying a home with a pool. I can find the ideal match for you. I have over 20 years of experience helping clients in the Orlando and surrounding area – so call me when you're ready to make your next move.