Moving can be a stressful time in your life. There are many things happening all at once – and you want to ensure that everything goes off as positively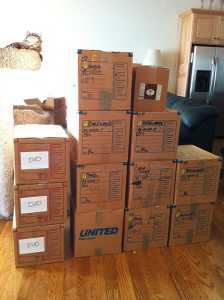 as possible. So, when it comes to hiring a mover to take your belongings from one home to the next, you will need to take a few precautions up front so that the experience doesn't turn into a nightmare.
First, one of the very best things that you can do is actually step away from your computer. Unfortunately, while the Internet can be a great convenience, it can also be an ideal location for scammers to lurk.
With that in mind, you will want to either find your local phone directory, or contact your real estate agent, and obtain the names and phone numbers of at least three moving companies that have offices in your local area. If possible, try to find companies that have been in business for a minimum of ten years.
Once you have done so, set up appointments with each company to come to your home and provide you with an estimate. When talking with the company representative, it will be important to find out if the company itself will be doing the move, or if they will be contracting the work out to someone else. If they will be sub-contracting out the work, then cross them off your list.
You will also want to ask other questions, too, such as:
Exactly what services are provided and included in the bid price.
Whether or not insurance is included.
How many individuals will be physically moving your items.
How long the move will take.
Once you get all of the estimates, it still isn't time to make your final decision quite yet. This is because you will still want to make sure that you know as much about the company as you possibly can. For instance, you may want to take a drive out to the companies' offices and make sure that they have trucks with their name painted on the sides (as versus plain trucks with just magnetic signs for labels).
After you have done this, you may now want to get on your computer in order to complete your research. For example, by going to the website of the Better Business Bureau, you will be able to see how many complaints have been filed for a particular company, as well as what grade (from A+ to F)
the company has been given.
You can also check the Federal Motor Carrier Safety Administration's (FMCSA) website in order to search for motor carrier license information. By
putting in the company's DOT license number and then clicking on "search," you will be able to tell if the company has a valid license, as well as obtain information regarding their inspection record and insurance details.
You could also double check with the FMCSA's Safety Violation and Consumer Complaints hotline in order to ask about any history of complaints regarding a moving company that you are considering.
By ensuring that your belongings are safe on moving day, you will have one less thing to worry about – and, it will be nice to know that the things that are important to you will be arriving safely in your new home.
Are you considering a move either into or out of the Orlando area? Give me a call. I have over 20 years of experience helping buyers and sellers in this area – and I can help you, too.